WMC:
March 2017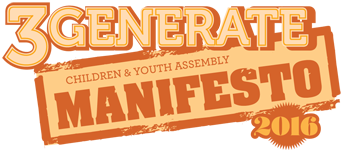 3Generate 2016
It took place from 25-27 November at the PGL Centre in Swindon and included children and young people from all over the Connexion, organised in 3 age-streams: 8-11s, 11-18s, 18-23s.
We are very grateful to the churches, circuit and district for generous support for this event. A group of 8 children went from Didcot and Wallingford and all of them had a great time.
Last month we shared some reflections from those young people from our church who went and had a great time. This month we share some reflection from the young people who went from Didcot Methodist Church who wrote about their experiences, and an article compiled by Katherine and Ian Pickering will shortly appear on the Connexional website with more of what they wrote, but here is a taster!
8-11s programme — Michael Frimpong, Chris & Ryan Maponga, Irene Obeng, Edward Swift:
"Everyone gathered and we had worship with the puppets and they did a story showing nothing can buy love... We did outdoor activities — I chose archery and it was great fun... We had an 'Engage' session. I did a session called "Making a difference" with Vice President Rachel... We all voted for youth president then had a manifesto session about being agents of change... We did worship with the gospel choir it was really good!"
"We played some games and learnt about Christianity and there were puppet shows of bible stories. We saw some magic tricks which were really epic! I made loads of friends. We met important church people. I enjoyed it!"
"We had dinner then watched a puppet show, had a reflection time before starting the SILENT DISCO!!!! We were given wireless headphones connected to 2 stations and partied for 1 hour until it was time to go to bed."
"The songs were good and helpful because they helped us learn. I particularly liked the song about the shepherd losing one of his 100 sheep because he didn't give up in finding him."
"Thank you for the opportunity to go to 3Generate as I have learnt lots of things that I couldn't have learnt anywhere else."
11-18s programme — Toby Caudle, Sean Maponga, Andy Obeng:
"My outdoor activity was vertical challenge where you had 4 obstacles to climb up: a ladder, tyres, rock climbing and nets... (then) a short "Butty Break" for bacon sandwiches... We met the youth president candidates and asked them why they'd like to be voted for the position and how they'd help with the Methodist Church, especially the youth."
"Great fun. There was lots of things to do, my favourite was the Survival activity, where we built shelters and made fires. We had an assembly each day which involved music, singing and prayer. The discussion groups about the church were very interesting. It was good to do these things with people my own age."
"For the activities, I had chosen Giant Swing, it was extremely scary! We had so much to do on Saturday- we did worship for an hour, we had silent disco, games room and the lounge. I met so many people- very kind and interesting people!... I will never forget 3Generate 2016- truly remarkable! I wish it lasted longer."
From a taxi-driving mum:
"It's easy to forget you're a part of something so much bigger than the church you attend... I would have loved to have had the opportunity to attend something like this when I was young."
popular recent storiesAlso in the news