ECG Equipping, Calling, Going
WMC:
April 2018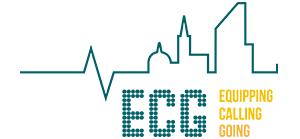 ECG — Equipping, Calling, Going]
A fantastic five days of fellowship, worship and teaching!
Once again, three of us from the circuit made the journey north to Scarborough to take part in the ECG Christian Conference. As we headed for the north east coast under grey skies we wondered if we had brought enough woolly jumpers and waterproof coats with us. Luckily we were staying quite close to the conference centre held at the Scarborough Spa. We enjoyed one day of glorious sunshine and were able to take some time to stroll by the sea and eat ice-cream. Yum!
The title for this year's conference was Unrestricted Access — unrestricted access to God's grace. We had the opportunity to explore this each day in worship, Bible study and seminars. Each morning we had the choice of lively All Age Worship or a Holy Communion service. I chose the latter and we had a different style of communion each day. I shall never forget the silent communion — very moving and uplifting.
At each evening celebration there is a keynote speaker and on Wednesday it was Loraine Mellor, currently President of the Methodist Conference. I have this on DVD if anyone wishes to borrow it.
Elaine Heath led the Bible Studies using different Bible passages to look at unrestricted access to God's grace through Prayer, the Word, Holy Communion and Fasting. Elaine is an ordained elder in the United Methodist Church and is Dean of the Divinity School and Professor of Missional and Pastoral Theology (North Carolina). It was very different style of Bible study from last year but also very good. I also have these on DVD.
On Saturday afternoon the scratch choir boarded an open top bus and set off to sing to the people of Scarborough. Fortunately, the rain held off, although there was a cold wind blowing. We met them at their stop outside the Grand Hotel and helped them make a joyful noise. Afterwards we needed hot tea and cake.
Sunday came all too quickly and all the different age groups from 0-90+, plus people from Scarborough churches, joined together in the Grand Hall for the final celebration. In the afternoon we set off for home, tired but uplifted, having seen, once again, what the Holy Spirit is doing around this country.
Why not come and try out ECG next year? ECG 2019 is entitled SOLID GROUND — For Such a Time as This.
Go to ecgevent.org.uk for more information.
The sooner you book the cheaper the price.
popular recent storiesAlso in the news